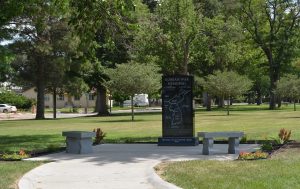 Welcome to the Arkansas Valley Chapter website.  We are a vibrant and growing chapter of the National Society Daughters of the American Revolution (NSDAR or DAR). We serve the Pueblo, Colorado, area and surrounding communities. For more than 100 years, Arkansas Valley women have supported the National and Colorado State Society goals and ideals through patriotic activities, historic preservation, genealogical research, and education. We are honored to support men and women who are veterans and those who are active duty military.
The DAR was founded in 1890 and incorporated by an Act of Congress in 1896. One of the largest women's service organizations in the world, it is comprised of volunteers who lineally descend from someone who served or assisted our new country in the American Revolution. The Colorado State Society, NSDAR, has many DAR chapters from its eastern plains to the Four Corners region to the western plateaus and mesas to our northern rivers and to points in between.
Through membership, you can express your patriotism, celebrate local history, and support education. You will also have the opportunity to meet amazing women and make many new friends. Learn more about the DAR and join our mission.