The Arkansas Valley Chapter, NSDAR was organized February 7, 1902. It draws its name from the rich Arkansas Valley which played a very important part in the history of the West as a major through way for Indians, mountain men, military, and settlers.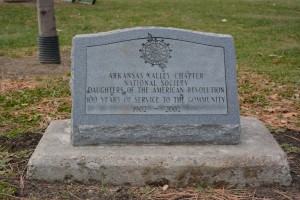 In the fall of 1900, by invitation of Mrs. Richard Lee, a number of women assembled at her home in Pueblo, Colorado, to discuss the formation of the Arkansas Valley Chapter.  No further action was taken until January 1901, when a second meeting was held at the same home.  The State Regent, Mrs. Emma Hayward Eldredge, and Mrs. John Campbell were present.  The State Regent appointed Mrs. William R. Hoch as organizing regent. It was the third chapter to organize in Colorado.
The first regular meeting was held October 1, 1901, when the following officers were elected: chapter regent, Mrs. Martha J. Noble; vice regent, Miss Clara Ella Duke; recording secretary, Mrs. C.W. Tingley; treasurer, Mrs. G.M. Kerr; registrar, Mrs. W.R. Hoch; historian, Mrs. Albert Murray; chaplain, Miss Clara Ella Duke; director, Mrs. John A. Thatcher; and director, Miss Helen Newell.  Other charter members included: Belle Robbins Reid, Clara McCoy Dixon, Lillian Thatcher, Ella May Dixon, Anna Comstock Jackson, Catherine Shaffer Lee, Kate Mae Duke, Martha Beatty Mallaby, Edna A. Henry Baxter, Frances Dewey Rix Hinman, Lillie Webber Leslie, Margaret Henry Thatcher, Elizabeth A. Noble, Helen Dunbaugh Newell, Sarah Hoyt Comstock Smith, Ella Ayres Duke, Blanche Morton, and Edith May Baxter McClain.
The gavel used by our regents is made from the wood of an apple tree grown at Mount Vernon, Virginia. It is beautifully inscribed and was presented to the chapter on December 7, 1909, by Regent Mrs. L.F. Cornwell.  Our most treasured possession is a pair of drumsticks of regnum-vitae, carried at the Battle of Bunker Hill by the grandfather of Mrs. Emeline Bradford, one of our early members.